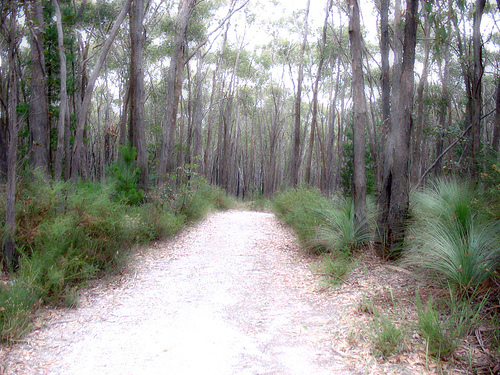 photo credit: Dream Forest via photopin (license)
If you are like many people, you may spend several hours a week dreaming of what your life could be. Maybe you dream of traveling the world, being your own boss, or finally taking the leap to do what you love, but just as your vision starts to get clear, you snap back to reality. A reality of bills, responsibilities, and a day job that feeds your family, but doesn't feed your soul.
If you aren't allowing yourself to experience that amazing vision in your mind of what your dream life would entail, it might be because these six things are standing in your way.
1. Fear. Whether you are fearful of failing, of succeeding, or simply stepping outside your comfort zone, fear is often the number one thing standing between you and your dream life. Despite how uncomfortable your current reality is, the thought of taking a leap into the life of your dreams seems risky, illogical, and to some people (many times the people closest to you) irresponsible.
And while I will agree that making the choice to live a life you love can seem a bit scary at first, it is well worth it when you are on the other side doing the things that make your heart sing. The fear may never disappear so feel the fear and do it anyway. Your dream life depends on it.
2. The story of your past. Similar to the fear you may be feeling the story of your past is also holding you back. Like most of us, you live within the parameters of your past and when the vision for your future reaches too far outside of what is 'normal' for you, it causes you to retreat to more comfortable territory. Your story keeps you playing small as it tries to convince you of what you can and cannot do.
It's time to write a new story, one that includes all the delicious details of your dream life because the truth is, there is nothing you can't achieve.
3. Your mindset. Your mindset is the single most powerful asset you have and it will dictate what you can and cannot achieve in your life. The key is keeping your mindset strong and focused on what it is you desire.
Decide what you want and know without a shadow of a doubt that it is possible and that your dream life will be yours. There is unlimited power that comes with a positive mindset, so do what you can to keep yours strong.
4. The how hurdle. It's likely you've lived in the logical and realistic world for so long that when you are met with a new goal or dream, you think you must immediately figure out how to achieve it. It seems logical enough, but when you can't readily figure out the how, doubt sets in and you begin to believe your desires are impossible.
What you may not know is that it's not your job to figure out the how, all you have to do is keep your vision clear, know that it is possible and trust that the how will appear.
5. Lack of trust, faith and belief that it is possible. It is time to stop telling yourself all the reasons you can't make your dream life a reality. Ignore the naysayers and those that do not support you and step out on faith, knowing that your dreams can and will come true.
You are the creator of your reality and when you know that, nothing is impossible.
6. Support. While you are the creator of your reality, you don't have to do it alone and you aren't meant to. There are messengers, helpers, coaches, mentors and even strangers that are put in your path to help you.
Thinking you need to do it all on your own could be the biggest thing keeping you from the life of your dreams. Reach out and ask for help when you need it. You never know, it may just lead you to your how.
You deserve to experience the amazing dream life you so often think about. The question is, are you ready to do what is necessary to make it a reality? If so, comment below with what you are willing to do to ensure that none of the six things above come between you and your dream life.
Lamisha Serf-Walls is a life coach for women who are ready to live an amazing life on their own terms, but feel held-back and frustrated in how to make that happen. Her mission is to create a community of empowered, free flowing, lovers of life who live a life of freedom with ease and inspire others to do the same. You can learn more about Lamisha and what she offers by visiting her Online, on Facebook, or Twitter.